Plus Vietnam Industrial Co., Ltd (Plus Vietnam), established in 1995 as a member of Plus Corporation, primarily focuses on manufacturing controlled by the management system of Plus Stationery, a subsidiary of Plus Corporation. Plus Vietnam's products are exported to Japan and all over the World.
"Unique Values-Higher Satisfaction" is Plus Corporation's business philosophy, which means that new values are created to the target of satisfying customers. This motto 'Unique Values-Higher Satisfaction' is also Plus Corporation's biggest happiness, social corporate responsibility (CSR) and mission.
Plus Vietnam is eager to continue to improve and provide services and products that make lives more convenient, comfortable and smarter to worldwide people. That makes Plus Vietnam contribute to the sustainable development of the World, as general, and Vietnam, as specific.
General Director NAKAJIMA SATOSHI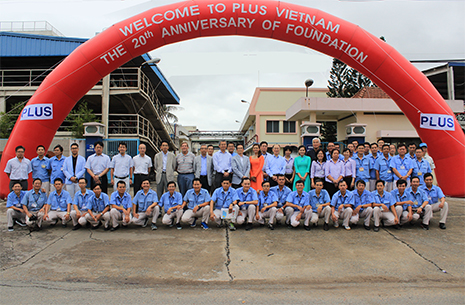 Company data
会社概要
Bien Hoa Factory
Entered Vietnam market as a stationery manufacturer in 1996.
No.3, 1A Road, Bien Hoa Industrial Zone II, Dong Nai, Provine, Vietnam
+84 (251) 3836593
+84 (251) 3836462
May 1995
26.410m2
26.100m2
US$ 20.450.000
US$ 10.100.000
Manufacture and sale various kinds of stationery
2.400 employees
*at the end of December 2018 (Include employees at Nhon Trach factory)
ISO 9001:2015, ISO 14001:2015, SA 8000:2014
Nhon Trach Factory
Officially operated in Vietnam from May 2010. Nhon Trach factory has supported Bien Hoa factory in expanding production, accelerating the delivery process, reducing production costs and improving product quality.
Lot T1, No.10 Road, Nhon Trach Industrial Zone 3, Dong Nai Province, Vietnam
ISO 9001:2015, ISO 14001:2015, SA 8000:2014
ACCESS
アクセス
Bien Hoa Factory
Công Ty TNHH Công Nghiệp PLUS Việt Nam
No. 3, Road 1A, Bien Hoa 2 Industrial Park, Dong Nai
Nhon Trach factory
Công Ty TNHH Công Nghiệp PLUS Việt Nam
Lot T1, Duong Số 3-10, Nhon Trach Industrial Zone, Nhon Trach District, Phuoc Thien, Nhon Trach, Dong Nai
View larger map
Ho Chi Minh office
Công Ty TNHH Công Nghiệp PLUS Việt Nam
59 Hanoi Highway, Thao Dien, District 2, Ho Chi Minh
View larger map